Many of our great activities are included in the room rate.  With Finland's second-largest national park on the doorstep, it's the perfect winter playground for those looking to explore this picturesque region. Your holiday will be filled with exciting Arctic activities like a snowmobile tour, ice-fishing, snowshoe walking tour or a cross-country skiing tour in the silent snowy forest. You can also visit our private Jávri wilderness cabin – a perfect place for a snowshoeing or cross-country tour. Guests venture out from the lodge in small groups  – ensuring a convivial and intimate ambiance. If you prefer more demanding activities we are ready to fill your dreams whether it's a 4-hour dog-sledding experience or exploring the white landscapes on a 4 -hour snowmobile safari, or searching for the Northern Lights.
2 h activities: Cross-country skiing, snowshoeing, snowmobiling and ice-fishing are included to the room rate.
In summer and autumn season hiking and walking tours, 2 h e-bike tours. In autumn months also Northern Light tours  are included to the room rate 
As the temperature plummets and you spend a full day outside in the snow,  it´s good to know that we provide you winter outfitter clothing that will keep you warm and looking stylish during your stay.
After a long day outdoors there's nothing better than coming back to the warmth of the Jávri's authentic Finnish saunas and enjoying a swim in the indoor swimming pool.
Jávri Wilderness cabin
Our private wilderness cabin is situated on a beautiful, rugged, and private area 2,5 km from Jávri. This private cabin is a base for many Arctic activities like snowshoe walking and cross-country skiing. In the warmth of the cabin, you can have lunch and enjoy hot drinks by the fireplace.
Planning an event, birthday, or private party with friends? Our wilderness cabin also serves as a private venue.
Snowmobiling
The fastest way to get a lay of the land is when our snowmobile safari puts you in the driving seat as we take in the sights of the Saariselkä area, driving over fells and through silvery forests on a snowmobile. Accompanied by a professional guide, the trail options are endless!
Skiing - cross-country and downhill
Saariselkä is the northernmost ski resort in Europe, an idyllic small village but also a major winter destination. Cross-country skiing is one of Finland's most beloved winter activity and in  Saariselkä we have over 200km of cross-country ski tracks around the area.  In Saariselkä we have also a down hill ski resort with 15 slopes.
Snowshoeing
If you are for a personal challenge, we suggest snowshoeing through the white landscapes. It´s a different and exciting way to view the beautiful Arctic wilderness. Accompanied by a professional guide.
Ice-fishing
Ice fishing is an exceptionally fun and rewarding way to spend few hours on a frozen lake and live like a local. Our guide will help you to make your own hole in the ice and teach you the bacic of ice-fishing. It´s simple and it is fun. Our gear will keep you warm and you will also get a hot drink and a snack during your tour.
Activities on request
Some of the activities are extra activities that are not included in the room rate. All husky and reindeer tours and longer snowmobile safaris are extra activities. You can also book an Aurora adventure or other long activities. Or would you prefer a  private activity that you could do with your family or friends? Please don´t hesitate to tell us your wishes – that´s why we are here to fill your dreams.
THESE ACTIVITIES ARE ON REQUEST
Dog sled rides
Reindeer safaris
4-hour snowmobile safari
Aurora tours
Fat bike tours
A day-long skiing trip on the fells (March-April)
A day long snowshoe trip on the fells ( March- April)
Horse riding
Dog sledding
Release your inner musher and head off into the Lappish wilderness – through forests and across frozen lakes – most of all, be in control of your own team of enthusiastic huskies, exploring the breathtakingly beautiful snow-covered Arctic landscape.
Reindeer safari
There is nothing more iconic of Lapland than a reindeer, so sit back in a traditional Lappish reindeer sleigh and enjoy a tranquil tour through the forest, the silence only broken by hooves, and the sound of the sleigh being pulled through the snow by your reindeer.
E-bike tours
Enjoy the calm of Arctic wilderness and Lapland´s best sights on a fatbike. You can explore the bike trails around the national park our guided fatbike tours take you up on the fells and to the ancient forest of Urho Kekkonen National Park. True paradise of every mountain biker and nature lover – throughout summer and winter.
northern lights
Finland is one of the best places on Earth to spot the Aurora Borealis, with them making an appearance more than 200 nights a year in Finnish Lapland. The Northern Lights season spans from mid-August until early April. Let us take you hiking through the white wilderness for a chance to get a glimpse of the Northern Lights. Even when the skies are cloudy and conditions aren't right, the winter skies are always worth gazing at while in the Arctic wilderness.
In autumn Northern Light tours are inlcuded to the room rate.
Backcountry cross-country tours
March-April are the best months for a backcoutry cross-country skiing tours. We ski in the national park and enjoy the pure white secenery. You will experience the fells at their best, spending most of the time above the treeline. In March-April we have plenty of snow and the days are long and sunny. These daytours are always guided and we take food and extra clothing with.
Hiking
Just a few steps out the lodge's front door is Finland's second largest National Park, Urho Kekkonen, with a size of 2,550km2. For hiking and nature enthusiasts alike, we offer peace of mind, fresh air and vast wilderness landscapes to admire.
Inlcuded t the room rate in summer and autumn time.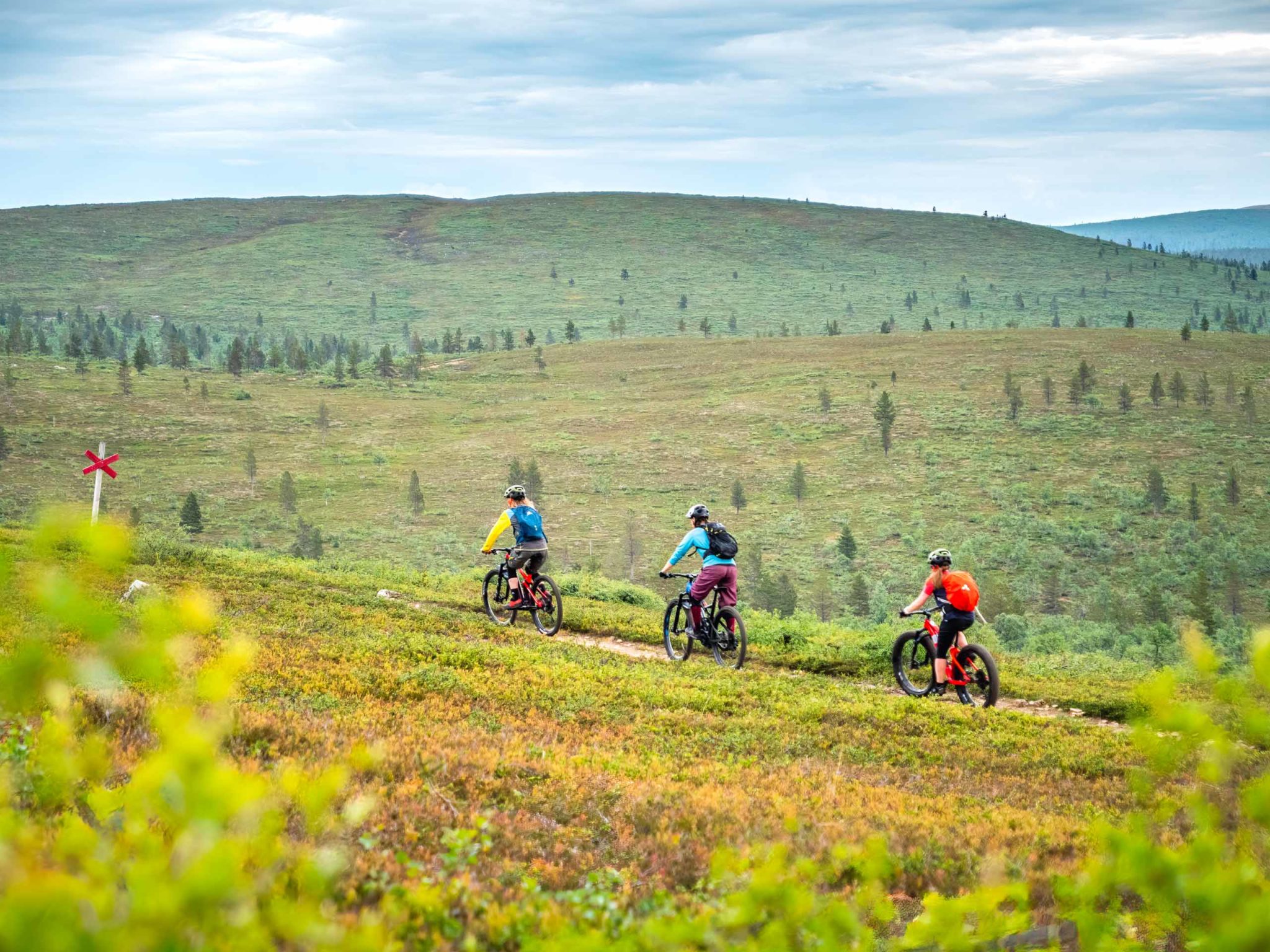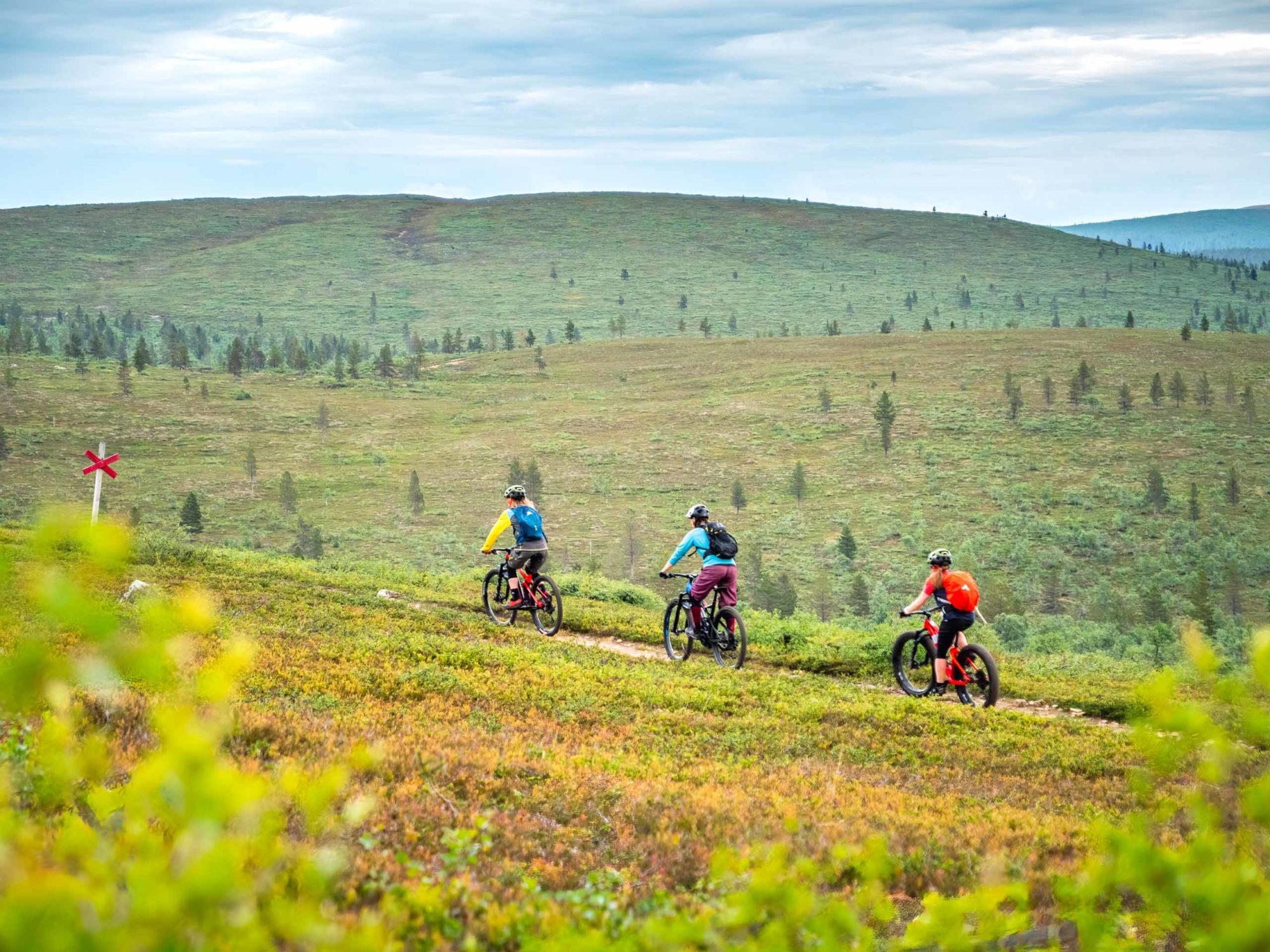 E-bike tours
In Kiilopää surroundings and Urho Kekkonen National park area, there are plenty of amazing biking destinations. Our experienced local guides know the best routes with stunning scenery. Cycle easy with very comfortable E-Bikes and enjoy the fresh air. Included to the room rate in summer and autumn time
relax
After a day outdoors there is nothing better than returning to the warmth of Jávri.  Discover our wellness facilities and services – two authentic Finnish saunas, a swimming pool, gym and relaxing massage treatments. 
Explorer
Évadez-vous dans la station de ski la plus septentrionale d'Europe et découvrez ce qu'est la Finlande. La Laponie enneigée est le rêve d'un amateur de plein air, avec de nombreuses aventures arctiques proposées. En été, les journées sont longues, ce qui permet de nombreuses aventures.
OUR LOCATION
Jávri Lodge is located in Saariselkä, less than 30 minutes from Ivalo Airport (IVL) and approximately 250km north of the Arctic Circle in the heart of Finnish Lapland. The Urho Kekkonen National Park, the second-largest protected natural park in Finland, is just minutes away from the property.
Where better to enjoy Arctic explorations than out in the untouched wilderness? This is your home away from home - 250km north of the Arctic Circle.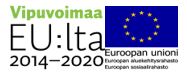 JÁVRI WILDERNESS CABIN
Jalgadas Oy:n  hanke toteutettiin  vuosien 2021-2022 aikana. Hankkeessa laajennettiin hotelli Jávrin keittiötä ja rakennettiin uusi elämyskeskus
JÁVRI WILDERNESS CABIN. 
Euroopan aluekehitysrahasto on tukenut taloudellisesti hankkeen toteuttamista.