Jávri restaurant is a private restaurant for hotel guests only.
When your days are spent exploring Mother Nature's bounty some 250 km north of the Arctic Circle, it's only fitting that meals be as hearty and sustaining as possible. And while Jávri Lodge's culinary team will ensure that you're satiated, it also promises an exceptional and creative menu. Changing daily, it reflects both seasonality and availability, and is determined by the organic ingredients delivered by our local trusted and reliable gatherers, fishermen, reindeer herders and hunters.
Indeed, the provenance of our produce is key: our fisherman delivers king crab from Northern Norway, we get wild fresh fish from nearby lakes, and our reindeer and game products are from a small neighbourhood family business.
Dishes only limited by the chef's imagination
Dinner is a five- to seven-course extravaganza, showcasing wild fish, matsutake and other local mushrooms, berries and other local organic delicacies, paired with exquisite wines from small European vineyards. Maybe a matsutake gnocchi and king crab tortellini one night; reindeer tartar, lamb filet and cloudberry sorbet another. Dining is always a creative and tasty surprise, depending on the season and availability, and otherwise only limited by the chef's imagination.
Here, you get to share the passion for our environment and love of good food – and, most importantly, to enjoy all of this without hurry and at peace.
Sleep
Experience the silence and beauty of a night in the Arctic, lie in bed and gaze at the stars or view the mystical Northern Lights. Wake up within the authentic log walls of a luxurious lodge, with the Finnish wilderness on the doorstep just waiting to be explored.
relax
After a day outdoors there is nothing better than returning to the warmth of Jávri.  Discover our wellness facilities and services – two authentic Finnish saunas, a swimming pool, gym and relaxing massage treatments. 
Exclusive Takeover
Privately book Jávri Lodge for a special occasion or family getaway and enjoy an unforgettable time in the heart of Finnish Lapland. With all-inclusive meals and events tailored around your preferences.
Where better to enjoy Arctic explorations than out in the untouched wilderness? This is your home away from home - 250km north of the Arctic Circle.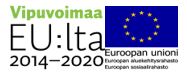 JÁVRI WILDERNESS CABIN
Jalgadas Oy:lle on tulossa uusi kohde Saariselälle, hanke toteutetaan vuosien 2021-2022 aikana, arvioitu valmistusajankohta 2022
Hankkeessa laajennetaan hotelli Jávrin keittiötä ja rakennetaan uusi elämyskeskus JÁVRI WILDERNESS CABIN. Elämyskeskuksessa asiakkaat voivat nauttia yksityisistä aktiviteeteistä luonnossa ja ruokailla erämajalla.
Euroopan aluekehitysrahasto tukee taloudellisesti hankkeen toteuttamista.