After a day outdoors there is nothing better than returning to the warmth of Jávri.  Discover our wellness facilities and services – two authentic Finnish saunas, a swimming pool, gym and relaxing massage treatments. Or, curl up by the log fire and watch the ever-changing landscape outside.
Swim & Sauna
As the temperature plummets, there's nothing better at the end of an Arctic adventure than coming back to the warmth of the lodge, and immerse yourself in a wellness experience – a gentle float or a few lengths in the pool, and let the heat of the sauna caress your body and soul.
Massage
In need of restoration? Jávri invites guests to feel the energy from natural stones and experience a touch of the wild Northern nature through a variety of spa offerings; classical retreat, hot stone and aromatherapy available onsite.
Fitness studio
There is no need to worry about workout either as the lodge has the most fantastically formed fitness studio with floor to ceiling windows – a harmonious blend of functionality, aesthetics and nature.
Living room
The lodge itself is intended to be a dream-home away from home with its living room, inviting fireplace, well-stocked wine cellar, and more. Light the fire, and curl up with a book or simply gaze out at a never-ending natural paradise that's unfolding outside the window. There is tea and coffee on tap, and an honesty bar that never closes. Like the world leaders who have stayed here before, guests find themselves truly relaxed and re-energised.
Dine
Let yourself be enchanted by the flavours of the North. The Jávri Lodge's culinary team promises exceptional menus inspired by their imagination and pure local ingredients from a roster of trusted and reliable gatherers and fishermen.
Explore
Escape to Europe's northernmost holiday resort, and experience what Finland is all about. Snow covered Lapland is an outdoor lover's dream, with many Arctic adventures on offer. Come summer, the daylight hours are long, allowing for ample adventure.
Sleep
Experience the silence and beauty of a night in the Arctic, lie in bed and gaze at the stars or view the mystical Northern Lights. Wake up within the authentic log walls of a luxurious lodge, with the Finnish wilderness on the doorstep just waiting to be explored.
Where better to enjoy Arctic explorations than out in the untouched wilderness? This is your home away from home - 250km north of the Arctic Circle.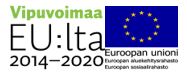 JÁVRI WILDERNESS CABIN
Jalgadas Oy:lle on tulossa uusi kohde Saariselälle, hanke toteutetaan vuosien 2021-2022 aikana, arvioitu valmistusajankohta 2022
Hankkeessa laajennetaan hotelli Jávrin keittiötä ja rakennetaan uusi elämyskeskus JÁVRI WILDERNESS CABIN. Elämyskeskuksessa asiakkaat voivat nauttia yksityisistä aktiviteeteistä luonnossa ja ruokailla erämajalla.
Euroopan aluekehitysrahasto tukee taloudellisesti hankkeen toteuttamista.