Dine
Let yourself be enchanted by the flavours of the North. The Jávri Lodge's culinary team promises exceptional menus inspired by their imagination and pure local ingredients from a roster of trusted and reliable gatherers and fishermen.
Explorer
Évadez-vous dans la station de ski la plus septentrionale d'Europe et découvrez ce qu'est la Finlande. La Laponie enneigée est le rêve d'un amateur de plein air, avec de nombreuses aventures arctiques proposées. En été, les journées sont longues, ce qui permet de nombreuses aventures.
relax
After a day outdoors there is nothing better than returning to the warmth of Jávri.  Discover our wellness facilities and services – two authentic Finnish saunas, a swimming pool, gym and relaxing massage treatments. 
Where better to enjoy Arctic explorations than out in the untouched wilderness? This is your home away from home - 250km north of the Arctic Circle.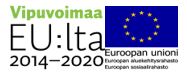 JÁVRI WILDERNESS CABIN
Jalgadas Oy:n  hanke toteutettiin  vuosien 2021-2022 aikana. Hankkeessa laajennettiin hotelli Jávrin keittiötä ja rakennettiin uusi elämyskeskus
JÁVRI WILDERNESS CABIN. 
Euroopan aluekehitysrahasto on tukenut taloudellisesti hankkeen toteuttamista.