Jávri is an unforgettable adult only, all-inclusive boutique hotel in the small village of Saariselkä, which lies in the far north of Finland, 250 km north of the Arctic Circle. With 13 stylish rooms this charming Lappish-style hotel is a ideal place to relax. Jávri is a tranquil, aesthetically pleasing home away from home.
There's a lot included in your stay like full board, winter outfit and beyond that, as well, from guided daily activities to free use of fitness studio, saunas and indoor swimming pool. There's a lot to do so we require a minimum two-night stay. All meals are served in our private restaurant – so you won't need to go far to find authentic Nordic food.
The location of Jávri is at the doorsteps to the trails and adventures in the National Park – is ideal for those seeking to experience untouched nature.
Experience the beauty of a night in the Arctic lying in bed in one of our Skyview Doubles, gazing at the stars or viewing the mystical Northern Lights. Feel the presence of history within the authentic log walls of our Spacy Doubles, or enjoy the chic Scandi atmosphere of our Cosy Double rooms.
EXciting EXPERIENCES
There's a lot included activities like guided snowmobiling, snowshoe walking tours, cross-country skiing tours and ice-fishing on a frozen lake. On our extra activities you can feel the thrill of dog-sledding, reindeer sledge rides and e-bike rides. 
BASE FOR RELAXATION
After a day outdoors there is nothing better than returning to the warmth of the lodge and immersing oneself in a wellness experience. Discover our wellness facilities and services – saunas, pool, gym, and relaxing massage treatments.
FLAVOURS OF NORTH
The Jávri culinary team promises an exceptional menu inspired by their imagination and pure local ingredients. Jávri restaurant is a private restaurant for hotel guests only. All meals are included in the room rate.
Where better to enjoy Arctic explorations than out in the untouched wilderness? This is your home away from home - 250km north of the Arctic Circle.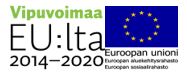 JÁVRI WILDERNESS CABIN
Jalgadas Oy:lle on tulossa uusi kohde Saariselälle, hanke toteutetaan vuosien 2021-2022 aikana, arvioitu valmistusajankohta 2022
Hankkeessa laajennetaan hotelli Jávrin keittiötä ja rakennetaan uusi elämyskeskus JÁVRI WILDERNESS CABIN. Elämyskeskuksessa asiakkaat voivat nauttia yksityisistä aktiviteeteistä luonnossa ja ruokailla erämajalla.
Euroopan aluekehitysrahasto tukee taloudellisesti hankkeen toteuttamista.