Looking for a unique property in a spectacular location for that special event? Somewhere luxurious, wild and remote? Jávri offers the ultimate private residence for events.
Exclusively Yours
What better way to celebrate a very special occasion with family or a group of friends, than to take over the entire lodge privately.
With a maximum capacity of twenty six guests in thirteen rooms, Jávri is the perfect property for that special occasion, whether it's birthdays, anniversaries or milestone moments; or perhaps you want to get the team away from the office for some creative thinking.
Private bookings include all meals, with the option to embark on organised adventures – all beautifully tailored around your preferences.
To find out more about exclusive takeover of Jávri Lodge, please contact the team at hotel@javri.fi
Sleep
Experience the silence and beauty of a night in the Arctic, lie in bed and gaze at the stars or view the mystical Northern Lights. Wake up within the authentic log walls of a luxurious lodge, with the Finnish wilderness on the doorstep just waiting to be explored.
Dine
Let yourself be enchanted by the flavours of the North. The Jávri Lodge's culinary team promises exceptional menus inspired by their imagination and pure local ingredients from a roster of trusted and reliable gatherers and fishermen.
relax
After a day outdoors there is nothing better than returning to the warmth of Jávri.  Discover our wellness facilities and services – two authentic Finnish saunas, a swimming pool, gym and relaxing massage treatments. 
Where better to enjoy Arctic explorations than out in the untouched wilderness? This is your home away from home - 250km north of the Arctic Circle.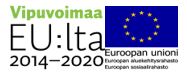 JÁVRI WILDERNESS CABIN
Jalgadas Oy:n  hanke toteutettiin  vuosien 2021-2022 aikana. Hankkeessa laajennettiin hotelli Jávrin keittiötä ja rakennettiin uusi elämyskeskus
JÁVRI WILDERNESS CABIN. 
Euroopan aluekehitysrahasto on tukenut taloudellisesti hankkeen toteuttamista.