Serene sleep in our rooms
Jávri Lodge welcomes adults 18 and over to sleep peacefully and experience the silence and serenity of Lapland. We have just thirteen en-suite rooms – six Cosy Doubles, three Spacy Doubles and four Skyview Doubles. All our rooms accommodate two persons.
The rooms have been meticulously designed using a blend of natural, locally sourced, and recycled materials, and complimented with minimalist furnishing in neutral tones. Whilst our rooms and suites vary in size, style and position, all provide the most restful place to lay your head at the end of the day. It's also a chance to experience the silence of the Finnish wilderness: there are no TVs or phones in the rooms, but there's a tablet, should you need to log in, and free WiFi.
Rates include breakfast, lunch, afternoon tea, dinner, soft drinks, outdoor wear, the use of pool, saunas and fitness studio, and guided activities (except on arrival and departure days).
Cosy Doubles
Our stylishly charming Cosy Doubles are on the ground floor of the lodge. The rooms feature original log walls, neutral colours and chic Scandi furnishings. There's a fantastically comfortable king-size bed, eye-catching armchair with sheepskin and sophisticated side tables, and a private bathroom.
21 m² │ max. 2 persons
Spacy Doubles
With a nod to the lodge's history, the Spacy Doubles on the ground floor feature original log walls, king-size beds, and sophisticated Scandi furniture. Spacy Doubles are larger than other double rooms at Jávri Lodge. There's a seating area with a comfy sofa and eye-catching armchair with sheepskin, and a private bathroom. Natural materials such as oak, wool and reindeer hides adorn the rooms and represent Scandinavian design aesthetics.
36-53 m² │ max. 2 persons
Skyview Doubles
Situated on the upper floor with 3.2 metres high floor-to-ceiling windows, Skyview Doubles offer magnificent view out onto the never-ending wilderness. There's an inviting seating area next to the window, a perfect place for a leisurely morning coffee. The leather and blackened wood of the interior, combined with neutral and grey tones create a modern, almost minimalistic style. SkyView Suites have a king-size bed and a private bathroom.
28-32 m² │ max. 2 persons
Exclusive Takeover
Privately book Jávri Lodge for a special occasion or family getaway and enjoy an unforgettable time in the heart of Finnish Lapland. With all-inclusive meals and events tailored around your preferences.
OUR LOCATION
Jávri Lodge is located in Saariselkä, less than 30 minutes from Ivalo Airport (IVL) and approximately 250km north of the Arctic Circle in the heart of Finnish Lapland. The Urho Kekkonen National Park, the second-largest protected natural park in Finland, is just minutes away from the property.
relax
After a day outdoors there is nothing better than returning to the warmth of Jávri.  Discover our wellness facilities and services – two authentic Finnish saunas, a swimming pool, gym and relaxing massage treatments. 
Where better to enjoy Arctic explorations than out in the untouched wilderness? This is your home away from home - 250km north of the Arctic Circle.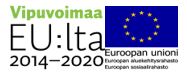 JÁVRI WILDERNESS CABIN
Jalgadas Oy:n  hanke toteutettiin  vuosien 2021-2022 aikana. Hankkeessa laajennettiin hotelli Jávrin keittiötä ja rakennettiin uusi elämyskeskus
JÁVRI WILDERNESS CABIN. 
Euroopan aluekehitysrahasto on tukenut taloudellisesti hankkeen toteuttamista.