Cookies
What are cookies?
Cookies are small text files that are stored in your browser and are used by most websites, including this website, to help personalise your web experience. Some features on this website will not function if you do not allow cookies. You can learn more about cookies at: WhatAreCookies.com.
What cookies do we use?
The following cookies are used on this website:
Google Analytics
We use Google Analytics to analyse how visitors use our site in aggregate form. Google Analytics uses cookies to identify unique visitors and record how they use a website. It does not collect any personally identifiable information and does not track movements between different websites.
You can "opt out" of Google Analytics cookies by installing the Google Analytics Opt-out Browser Add-on to block Google Analytics on all websites, or you can configure your browser to block cookies.
Guidance on how to tell your browser not to write cookies can be found at the following links. Please note that Varsity International is not responsible for the content of these sites, nor can we be held responsible for any changes to your computer should you choose to make the changes described in these links.
Instructions for Internet Explorer 7 & 8
Instructions for Interner Explorer 9
Instructions for Firefox
Instructions for Safari
Instructions for Chrome
Our location
Escape to this unique and beautiful location, over 200 km north of the Arctic Circle. On the outskirts of the village of Saariselkä and on the doorstep of Urho Kekkonen National Park, Jávri Lodge offers great access for outdoor pursuits.
Sleep
Experience the silence and beauty of a night in the Arctic, lie in bed and gaze at the stars or view the mystical Northern Lights. Wake up within the authentic log walls of a luxurious lodge, with the Finnish wilderness on the doorstep just waiting to be explored.
Explore
Escape to Europe's northernmost holiday resort, and experience what Finland is all about. Snow covered Lapland is an outdoor lover's dream, with many Arctic adventures on offer. Come summer, the daylight hours are long, allowing for ample adventure.
Where better to enjoy Arctic explorations than out in the untouched wilderness? This is your home away from home - 250km north of the Arctic Circle.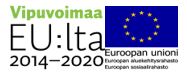 JÁVRI WILDERNESS CABIN
Jalgadas Oy:lle on tulossa uusi kohde Saariselälle, hanke toteutetaan vuosien 2021-2022 aikana, arvioitu valmistusajankohta 2022
Hankkeessa laajennetaan hotelli Jávrin keittiötä ja rakennetaan uusi elämyskeskus JÁVRI WILDERNESS CABIN. Elämyskeskuksessa asiakkaat voivat nauttia yksityisistä aktiviteeteistä luonnossa ja ruokailla erämajalla.
Euroopan aluekehitysrahasto tukee taloudellisesti hankkeen toteuttamista.